Resources For Attorneys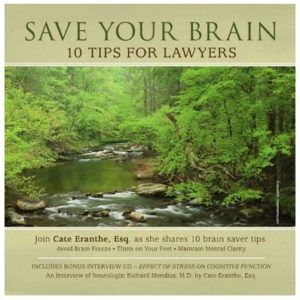 Save Your Brain: 10 Tips for Lawyers
Litigation and transactional legal careers are comprised of demanding activities that often cause high stress. This stress can interfere with our cognitive function and the brain, which are necessary tools for success.
Learn 10 brain saver tips that can quickly reduce stress and improve your cognitive function.
The Save Your Brain CD is 30 minutes long and contains 10 quick tips, most of which can be performed anywhere. Really. ANYWHERE. There are tips that can be used on the courtroom steps or in your office. There are many things you can do that don't require quiet, or a horizontal position, and a few that do.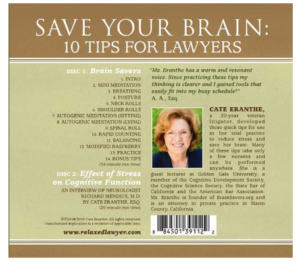 Included with Save Your Brain: 10 Tips for Lawyers is a bonus CD with interview of neurologist Dr. Richard Mendius by Cate Eranthe on the nature of stress and its impact on cognitive function. Dr. Mendius is a neurologist in private practice in Marin County, California. He trained at UCLA and has been on the teaching faculty of UCLA, Oregon Health Sciences University, and Stanford University.
Ms. Eranthe is a 20-year plus veteran litigator who developed these quick tips to reduce stress and save her brain. She is a guest lecturer at Golden Gate University, a member of the Cognitive Development Society, the Cognitive Science Society, the State Bar of California and the American Bar Association.
DO NOT LISTEN to Disc 1 while operating machinery or a motor vehicle.
Publisher ‏ : ‎

IEA (January 1, 2010)
ISBN-13 ‏ : ‎

978-8450139112